At DigitalMakers we know that social networks are one of the most powerful tools of marketing that we have as a company, and for that reason we want to share our response to a question that I'm sure you've often asked yourself: "what social network does it have to be on my business?"
The answer is very simple: you have to be present in social networks where your client.
If your client is a private individual and is on Facebook, it will be advisable that your company is in Facebook.
If your client is a company and you go to the B2B, you must be on Linkedin so you can establish personal and direct contacts with decision makers.
Establish your buyer person
This seemingly simple answer that we have given you, however, involves a work a little more complex: establish who is your ideal client, that is, your buyer person.
To do this, in DigitalMakers we work with the digital empathy map, a tool for marketing that allows us to better understand who our potential customers are.
As responsible for marketing and communication of your company, you know that when you develop the profile of your buyer person, not only you must include generic data such as "I direct companies" or "particular" but you have to go much further.
Define the age, sex, training or interests of your ideal client, and also other information like what search engine uses.
You can also investigate what social networks are present (in your leisure time and professionally, to address you in a different way), what channels do you use (television, radio, newspapers) or through what device browses (tablet, mobile, PC).
Once you have all this data defined, think about what problem you have that needs to be
solutions, because it will be through this problem that you will be able to access it and establish a
"ratio".
In our blog we talked more deeply about the digital empathy map in this article, and
We recommend that you read it again because it can be very useful.
So you have this "robot portrait" of your buyer person as present as possible, from DigitalMakers we recommend that you print the questions of the image and that you even think a description accompanied by a photo of your ideal client.
This is what you will have in mind in every strategy you plan for this client!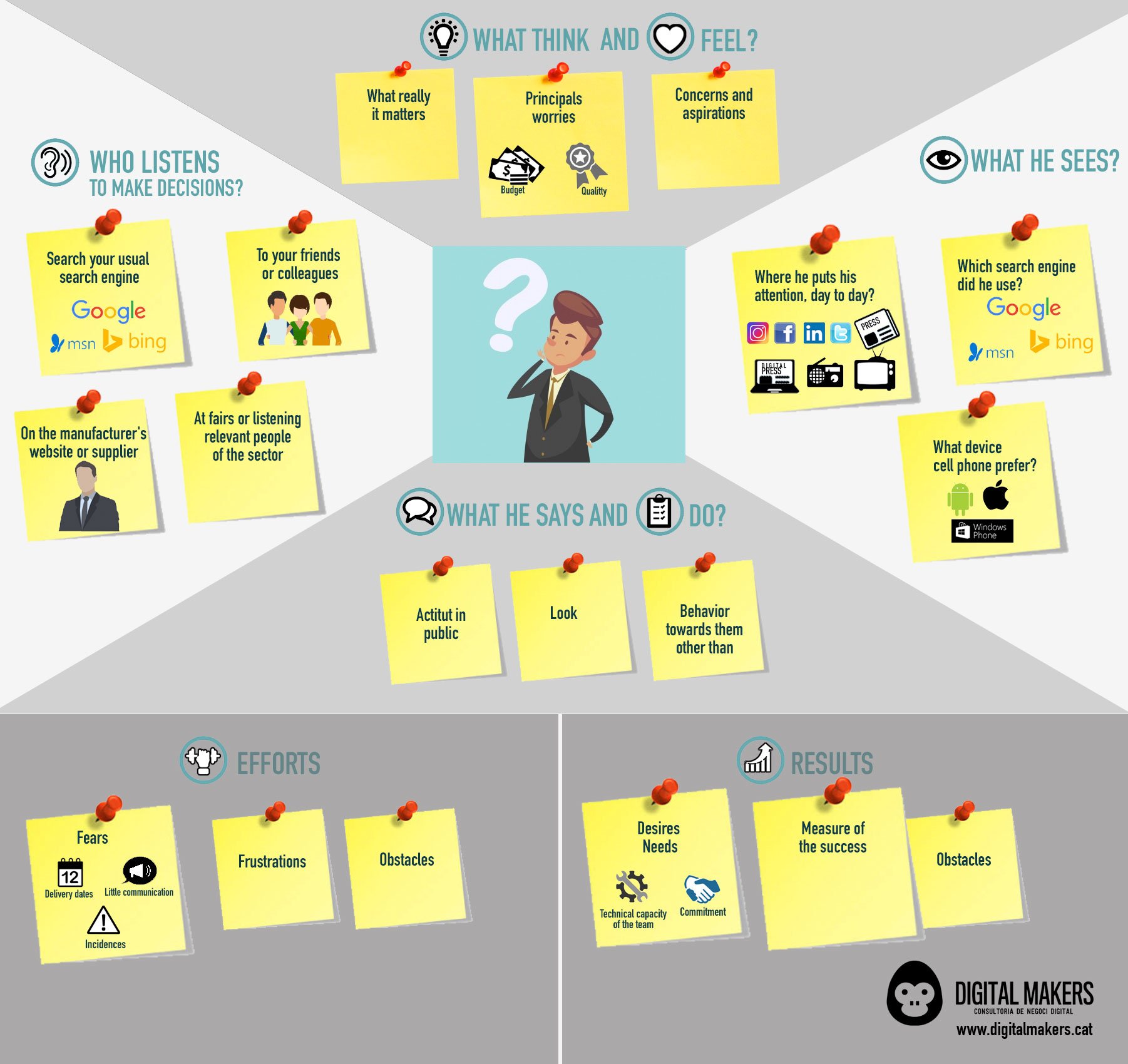 More specialized networks
For all this, the answer to the question "in what social network my company has to be" do not
It can be one.
The answer you have to find you and your team according to the type of client you are targeting.
One last piece of advice: apart from the most well-known and massive social networks, there are other
specialized in specific sectors such as Behance that can be very beneficial if your ideal client is there.
Discover them and take advantage of them!
Did you like this article?
Do you want to receive interesting content periodically?
Subscribe to our blog here and start the digital transformation of your company with DigitalMakers.