You are the marketing manager of a company that offers technological B2B services. One of the tasks your CEO has tasked you with is something as tangible and quite abstract as "helping sell more".
You who are a diligent professional, have done your homework and already have a digital presence worked. You have a corporate website that receives visits and converts several leads every month !!
Fantastic! It's a great first step, but remember that the CEO has petitioned to "help sell more".
So don't stop here and ask yourself the following key questions:
Volume of monthly visits that your corporate website receives?
Number of monthly leads?
Number of first monthly visits?
Number of closed opportunities per month?
Half chance ticket?
Sales from the previous year?
Answering them has not been easy, to know the monthly visits you have had to access google analytics (a tool that does not consult as much as you would like, it takes you day by day).
To know the number of monthly leads you have entered your CMS (a wordress, although you have been going back and forth for a while to a CMS integrated with your CRM), and you have had to remember (you always forget) how to access the list of leads received within the cms.
Without a doubt, the most difficult has been obtaining the number of first monthly visits, the number of opportunities closed per month, and the average opportunity ticket closed, ...
arrggggg you've had to talk to the commercials, and this point is always unknown territory. The commercial team always has other more relevant priorities than talking to marketing, ...
in the end your persistence has a prize, and you get 15 minutes with the commercial director, who luckily has the data sufficiently clear and in a jiffy, you have the information you were looking for!

At the moment the data is: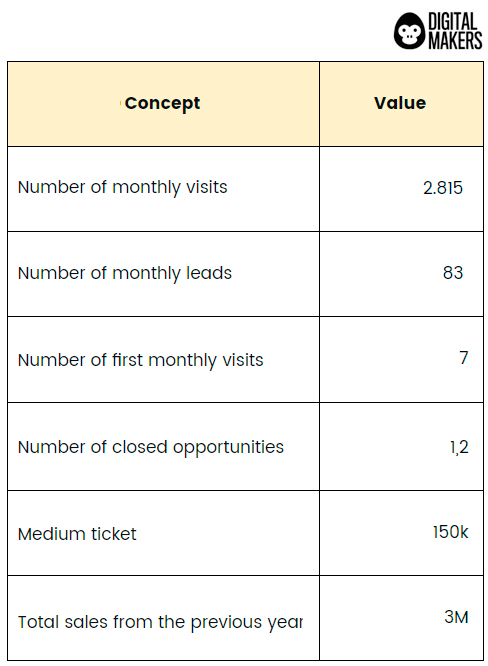 You are satisfied, but you tell yourself that you have to find a way to always have all this information at hand. You have spent too much time on this task. You will do it! you sign up for your to-do-list.
Now you have no time to waste, you get in touch with your regular digital marketing consultant.
You already have great knowledge about the entire digital ecosystem (seo, sem, social networks,
inbound
, etc.) but there is such a volume of actions that you could carry out that you have proven that it is good practice to share the situation with someone else expert and thus clarify and prioritize the actions to be carried out to achieve the objective "sell more".
And said and done, at the meeting with the consultant, you immediately get down to work.

As a first step, you define a SMART objective (Specific, Measurable, Achievable, Realistic, in a specific time).

Given that the CEO has not been specific, you decide to enter the data and thus help her make her request tangible, you agree to set a goal and an action plan to reach a turnover of € 4M in the next financial year.
Secondly, you proceed to clarify the data, putting them on an Inbound activity map.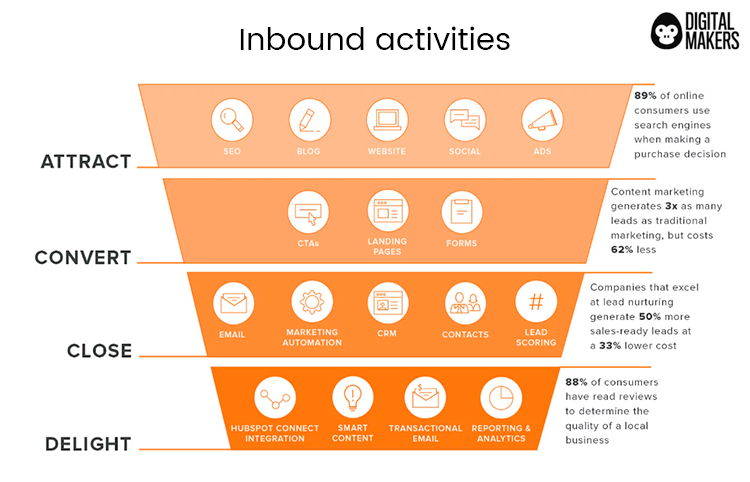 Specifically in your case, the situation is as described below: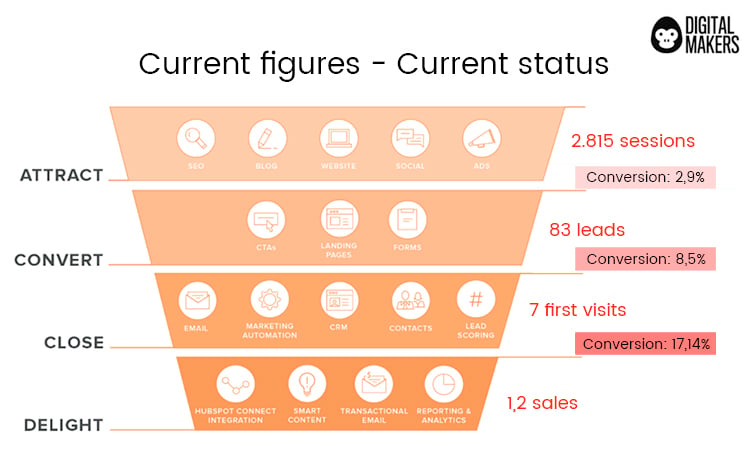 Right now, you feel like you keep increasing your satisfaction for a job well done.

You are getting closer to being able to design your action plan to start "selling more".

Not only "Sell more" in an abstract way, but now you know that you will be able to present a concrete action plan to your CEO aimed at reaching the € 4M milestone, one million more than last year!
You are convinced that the CEO will know how to value it. She is what you want and need, clear and relevant numbers!
How will I meet the set goal?
Working with the consultant and putting key data on an inbound activity map has helped you identify the weak points where to start working; now you have to redefine the parameters that will lead the company to meet the € 4M target.
At this point it is important to be realistic and feasible, validating with similar cases in the sector. Thus, you agree with the consultant that it is feasible to carry out the following actions:
Write more oriented to your buyer persona, make more articles with a title in the form of a question and create a group of happy and satisfied customers that will help you boost social networks. You feel that with these 3 actions you will be able to increase visits to the corporate website by at least 15%.
The time has come to review the corporate website and put more CTAs so that the visitor finds it more fluid to interact with the company. At least on each of the product pages a chatbot and an easy to fill form will be added. You will also make a specific landing page for the webinars you are planning, very oriented to the specific case. You feel that only these actions will surely increase the leads to receive 10%, in addition, they will be of quality, since marketing will already have qualified them.
The fact of writing the articles more oriented to the buyer persona (role, turnover of the company, etc.) will help to receive more Marketing Qualified Lead (MQL) leads. If you add lead scoring techniques to this fact (for example, those contacts who have visited more pages on the corporate website, or have downloaded any of the ebooks) will have a higher score, you will make it easier for commercials to focus and prioritize those customers who have more options to finish shopping. In this way you will help to increase, on the one hand,

the number of first visits made by commercials by at least 7%, and the number of closed deals by at least 5%.
In the conversation many more actions arise to be carried out such as SEM, Smart Content, efficiency of the sales and marketing team with automation of key processes, etc., but you think that for an initial phase it is already a great first improvement.
You repeat to yourself that it is better to make a limited number of small improvements oriented to an objective and measure the results; not to do too much, not to measure and lose control of what you are doing. You know that of every 15 or 20 small actions, two have an impact. From there it is about iterating, reviewing data and making quick decisions.
Target monthly figures
The penultimate step is to project the increases you have planned on the activity map. Making the calculations, the map is as follows: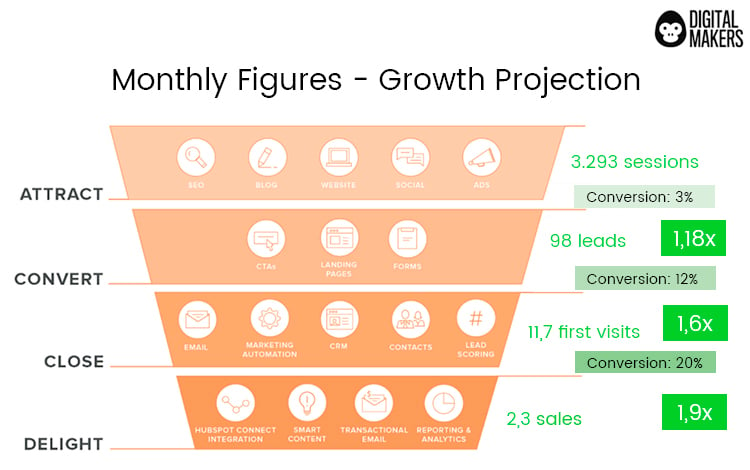 Perfect! the work and the roadmap are taking shape.

There is only one step left, the moment of truth: check whether with the planned (realistic) actions and the impact of these actions the results will approach the objective of € 4M. A milestone that will fit the CEO's vision for the next 12 months.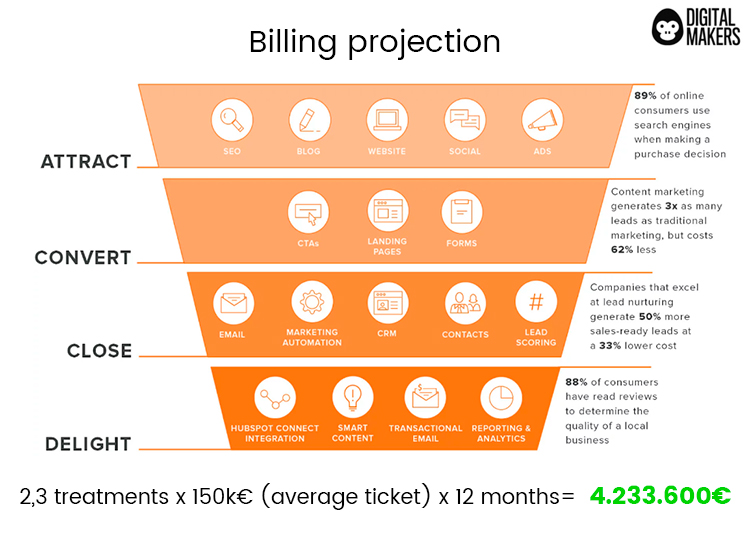 You look at the numbers, you are satisfied that they are viable and happy to have a clear roadmap in front of you with a tangible economic objective.
You thank the consultant for sharing the last hours with you. Happy you go to the meeting with the CEO, sure that it will give you free way to start working.